FDA posted Donald Ashley's, Director of the Office of Compliance (OC), presentation (here)   at the FDLI Enforcement, Litigation, and Compliance Conference presented December 6, 2017.  Mr. Ashley provided some interesting enforcement information, some of which is presented here.
The FDA's Biomedical Monitoring (BIMO) program warning letters issued over the last 4 fiscal years is captured in the slide below.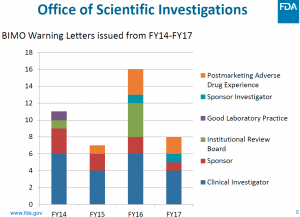 There was a bit of a spike in FY 2016 with what appears to have been a concentration on clinical investigators and IRBs. The drop in FY 2017 clearly show the same concentration on clinical investigators but not much on IRB with a two-year higher activity relative to post marketing ADEs.
Compounding facilities both have been under the microscope for the past few years and the activity for FY 2017 appears to reflect a continued concentration on this area.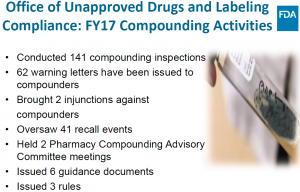 The OC's Office of Manufacturing Quality Appears to have been busier in FY 2017 issuing warning letters with India and China leading the pack in firms receiving such missives.
These three charts provide a view into where and what areas of concentration of enforcement actions are likely to be continued moving into FY 2018.