The Office of Generic Drugs issued its 2018 Annual Report, which contains the accomplishments of the generic drug program over the past calendar year.  The report (here) provides data on approvals and tentative approvals, as well as other actions that OGD has taken over the year.  Included in the report are links to various operational, guidance, and policy documents that OGD has developed and issued.
OGD highlights significant first-time generic approvals, as well as the numbers of approvals (see charts below).

Generic Drug Approvals 2018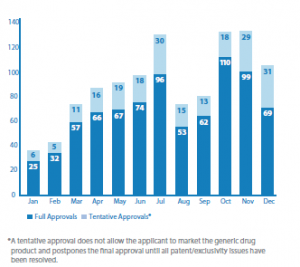 The report also provides information on the other offices within the Center for Drug Evaluation and Research and other FDA centers and offices that play a part in the success of the generic drug program.  Discussions relative to stakeholder outreach and meetings are also outlined.  The report is certainly worth reading and provides useful information about the program in a single location.  While there is nothing new in the report, for those of us that follow the program carefully it is a handy reference.