A few weeks ago, Lachman Consultants participated in the ISPE/FDA/PQRI Quality Manufacturing Conference ("Conference") in Alexandria, VA. For those that have never attended, this is a particularly dynamic meeting for those that are involved in manufacturing in the regulated industry. There were a myriad of presentations and workshops with members of FDA and industry professionals, as well as ample networking opportunities. Not only did multiple members of LCS' senior management participate on boards and moderate sessions, but we also were key contributors to the 3rd Annual Data Integrity Workshop that preceded the full Quality Manufacturing conference.
As anyone in the regulated industry knows well, the integrity of data in the pharmaceutical manufacturing life cycle has been a focus of international regulatory authorities for the past few years. As a parallel to the increase in enforcement actions that name these issues as violations, ISPE and Lachman Consultants have been participating in a pre-Conference workshop addressing multiple issues related to data integrity in the pharmaceutical industry. For this workshop, members of Lachman Consultants management team served as facilitators for 2 out of the 4 breakout sessions. Specifically, Paul Mason, PhD, Director, Science and Technology, Lachman Consultants, and James Davidson, PhD, Vice President, Science and Technology, facilitated a session on DI Governance- Maturity Model and Cultural Model, while Dan Barreto, Vice President, Compliance, facilitated a session on Data Review and Forensic Tools – Manufacturing. These were run as 2 concurrent sessions, and there was a good amount of lively discussion and debate among the attendees of both.
Linda Evans O'Connor, Head of Business Processes and Regulatory, Lachman Consultants, served as moderator for a keynote session kicking off the conference. The panel consisted of François Sallans, VP Quality & Compliance and Chief Quality Officer, Johnson & Johnson, and Michael Kopcha, PhD, RPh, Director, Office of Pharmaceutical Quality (OPQ), CDER, FDA.  Dr. Kopcha discussed the objectives of OPQ, as well as their credo – "Pharmaceutical quality is the safety and efficacy of the next dose that the consumer takes"[1]. The presentations set the tone for the entire conference, and were followed by a lively Q&A session.
In addition to these educational sessions, Lachman management also were involved in efforts regarding quality cultural issues associated with pharmaceutical manufacturing. Our President and CEO, Fran Zipp, is the Chair of Women in Pharma ("WIP"); this breakfast session drew over 100 attendees (and not all of them female!) with a panel of senior, accomplished female executives drawn from both industry and government, including Emily Stump, Director of Operations, Pacific Northwest, Commissioning Agents, Inc.; Mihaela Simianu, PhD, Director, Regulatory Compliance, Pharmatech Associates, Inc.; Kellie Schoolar Reynolds, PharmD, Deputy Director, OTS/OCP/DCPIV, US FDA, Center for Drug Evaluation and Research; Tammie Champlin, Senior Director, Quality Engineering, Johnson & Johnson; and Valerie Jensen, Capt., RPh, Associate Director, Drug Shortage Staff, US FDA.  We expect that WIP will grow even more for next year's ISPE/FDA/PQRI Quality Manufacturing Meeting (and it may even grow to be a track for next year's meeting).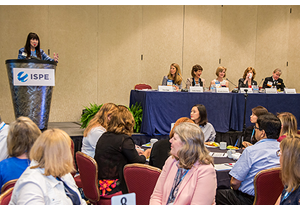 As the badge sponsor and the first booth that was encountered, Lachman Consultants had quite a presence in the exhibit hall, as well as during the networking sessions. All the personnel who had presented, as well as Ricki Chase, one of our Directors in our Compliance Practice, were present, and many attendees stopped by to pick up one of our White Papers on Data Integrity[2],  on Cloud Computing[3] or on medical device compliance[4] as well as meet the authors at our booth.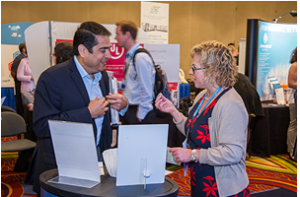 All in all, the ISPE/FDA/PQRI conference was a success, and one that Lachman Consultants will happily participate in for future years.
[1] ISPE, iSpeak blog, "2017 Quality Manufacturing Conference – Day 1 Recap: New Format for Stronger Interaction: Fifth Annual ISPE/FDA/PQRI Quality Manufacturing Conference", June 6, 2017, http://blog.ispe.org/2017-quality-manufacturing-conference-day-one-recap
[2] Davidson, J., "White Paper: The Real Cost of Poor Data Integrity in Pharmaceutical Manufacturing", Lachman Consultant Services, Inc., May 19, 2016, https://www.lachmanconsultants.com/wp-content/uploads/2016/05/data-integrity-whitepaper.pdf
[3] Evans O'Connor, L, "White Paper: Navigating through the Clouds in Life Sciences", Lachman Consultant Services, Inc., May 19, 2016, https://www.lachmanconsultants.com/wp-content/uploads/2016/05/cloud-computing-reformatted.pdf
[4] Chase, R, "White Paper: Don't Wait, Keeping Up with Medical Device Compliance", Lachman Consultant Services, Inc., May 23, 2017, https://www.lachmanconsultants.com/wp-content/uploads/2017/05/MEDICAL-DEVICE-WHITEPAPER.pdf
All images reproduced with the permission of ISPE.